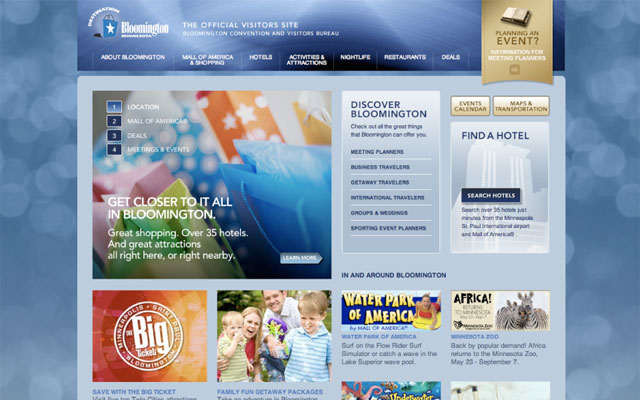 Case Study
Destination Bloomington
In 2008 the Bloomington Convention Visitor Bureau decided it was time to completely overhaul its web site and create a new site that:
Catered to the specific needs of its key target audiences
– Leisure travelers
– Business travelers
– Group/Meeting Planners
Engaged these audiences in a way that reinforced the value proposition of Bloomington as a premier destination.
Offered a unique online experience by following best practices in user centered design.
Offered publishing tools to make the site content more relevant and less costly to maintain.
Visitor Goal
Create an improved online experience for site visitors to help them make an informed decision about traveling to Bloomington.
492% increase in email sign-ups/site registrations
12% increase in site visits
18% increase in organic site search (due to improved site content)
Business Goal
To drive room night sales into Bloomington hotels.
Results:
492% increase in email sign-ups/site registrations
12% increase in site visits
18% increase in organic site search (due to improved site content)